Counterfeit Controlled Substance
Possession/Intent/Dealing in Wisconsin
Depending on the exact counterfeit substance, possessing it with the intent to deliver or distribute could be a Class E, Class H or Class I felony. Class I felony penalties include up to a $10,000 fine, 3.5 years in prison or both, while the maximum penalty for Class E felony is up to $50,000, up to 15 years in prison or both.
Tom Grieve
OWI & Criminal Defense Attorney
Counterfeit Possession Defense Lawyers in Milwaukee, Madison & Waukesha
Everyone knows drug possession is illegal. But did you know it's illegal to have something appearing to be a drug—even if it's a completely legal substance? It's called possession of a counterfeit controlled substance, and it's illegal on the state and federal levels.
Madison and Milwaukee residents charged with counterfeit possession can face hefty fines, other charges and, depending on the state, serious jail time. That's where we come in. Our Wisconsin criminal defense lawyers are prepared and experienced in fighting charges of possessing counterfeit controlled substances.
You are only a criminal if you are convicted™
What are the counterfeit controlled substance laws in Wisconsin?
Drug laws in Wisconsin are different than other states, including laws regarding counterfeit controlled substances. When it comes to Wisconsin drug laws, a counterfeit controlled substance is anything attempting to bear an identifying mark of a controlled substance. Possessing, attempting to distribute, or trying to make a counterfeit controlled substance is illegal.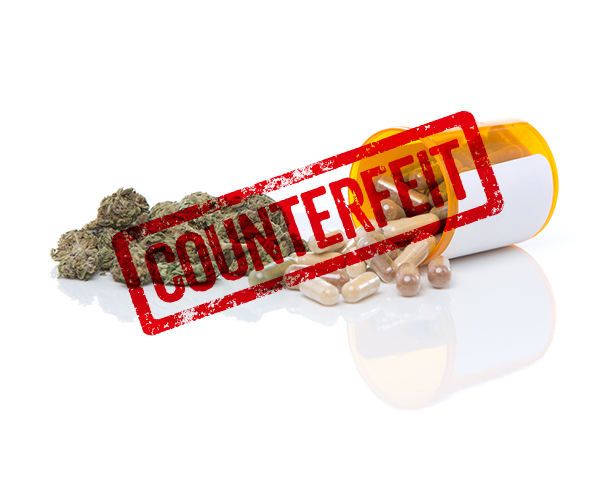 Counterfeit Controlled Substances vs. Imitation Controlled Substances in Wisconsin
Possessing something appearing to be a counterfeit substance is illegal. But if you sell or attempt to distribute it, especially while claiming the imitation is the real deal, you can face imitation controlled substance charges. The imitation controlled substance charges in Milwaukee are no joke. According to Wisconsin state law, representing the counterfeit material as real drugs doesn't even have to be verbal. If you imply it, you risk getting charged with imitation. The ambiguity can do one of two things: Work against you, or work for you.
So, I could go to jail for possession without ever coming into contact with real drugs?
Yes. Without experienced counsel, a court can take advantage of vague counterfeit Wisconsin drug laws on controlled substances, and rule against you. If you're accused of one or both of these crimes, you need an experienced criminal defense attorney who will litigate on your behalf. Evidence analysis and legal familiarity on counterfeit controlled substance can save you more than money and jail time—it can save you from a serious felony.
Beating Charges, Fines & Penalties from Possessing Counterfeit Controlled Substances in Wisconsin
Charges of possessing a counterfeit controlled substance can have serious repercussions. While Wisconsin's trendsetter reputation rings true for a lot of state legislation, charges like these present a very real, serious threat. Depending on your charges, you face a Class H or I felony if found guilty. That's thousands of dollars, and up to 6 years in prison.
These charges can affect anyone—including you. Retaining a criminal defense lawyer ensures you'll be ready when they do. Located just minutes away from Milwaukee, defense attorney Tom Grieve is known as the guy to get possession charges dropped or reduced.
With our Wisconsin drug possession attorneys, a winning drug defense strategy keeps you and your loved ones safe from Wisconsin's vague counterfeit controlled substance laws, and subsequent unlawful charges.
No matter your budget, we've got you covered. Our flexible payment plans and winning reputation keep you safe no matter the cost. From Milwaukee to Madison, you get the best representation with Grieve Law, LLC.
Don't wait until it's too late—contact our
Milwaukee drug defense lawyers

for free legal advice on possession of counterfeit controlled substances.
In Wisconsin, how long does a Counterfeit charge stay on your record?
Counterfeit drug possession in Wisconsin could lead to a variety of penalties, including up to 15 years in prison for the more severe offenses, but even less severe charges could remain on your record for life.