NFA Gun Trusts Wisconsin
Pro-gun lawyer helps you estate plan
NFA Gun Trusts allow for individuals to hold and possess NFA items without them being 'papered' to them. This means people, in most cases, can purchase and acquire NFA items without being fingerprinted or being required to get local law enforcement to sign off. They offer superior protections against possible criminal liability, potentially sparing family members and others from the risk of felony prosecution. In addition, they provide for a safe, stable and reduced cost structure of passing along your items to the next generation without paying the $200 federal tax stamp to transfer each item again.
Tom Grieve
OWI & Criminal Defense Attorney
Tom Grieve is an experienced gun attorney who has appeared as a keynote conference speaker and webinar subject matter consultant for the United States Concealed Carry Association (USCCA).
Wisconsin's Firearm Defense Attorney
If you are considering the purchase of an NFA item or need information on an NFA trust, our Wisconsin firearm lawyer will answer all of your questions confidentially and at no cost to you. The firearm lawyer Wisconsin trusts is not only one of the best drug possession lawyers in Milwaukee but is also revered as one of the most knowledgeable on Wisconsin firearm laws. Offices are located in Brookfield (Waukesha County), Milwaukee, and Madison. If you are not near one of those locations service can generally be completed by phone or email.
You Are Only Guilty If You Are Convicted ®
Tom Grieve is an experienced gun attorney and zealous 2nd amendment advocate with offices in Madison & Milwaukee. He helps Wisconsin gun owners with intoxicated possession of a firearmPossession of Semi automatic weapon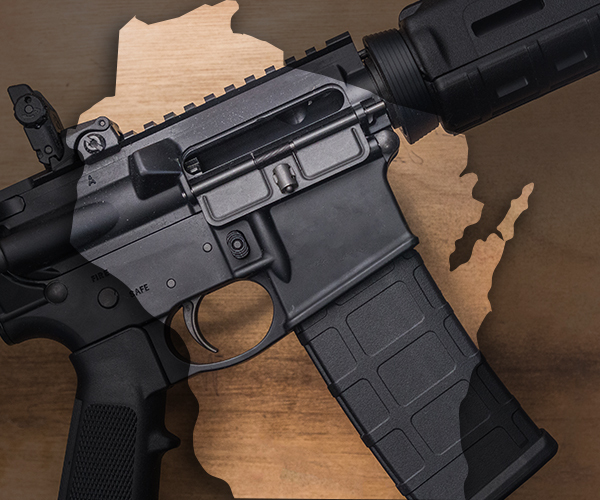 Wisconsin Firearm Attorney Sets up NFA Gun Trusts
NFA Gun Trusts are easy to use and simple to understand. The attorneys at Grieve Law will personally sit down, face to face, with every NFA Gun Trust client and explain this topic in-depth. We will go through your entire trust line by line, word by word, before you sign it, and answer any and all questions you may have. We are always available to answer any questions you have in the future about your NFA Gun Trust for no fee; whether it is two weeks or two years after you've signed the trust. NFA Gun Trusts are drafted and constructed to not interfere with any other existing estate planning. Usually, they will not require an attorney to make changes for you down the line. I have had numerous clients tell me they wish they had done NFA Gun Trusts years ago.
Whether you need an NFA Trust in Milwaukee, Madison or Waukesha or you just want some additional information on the subject, our Wisconsin firearm attorney is just click away.
You are not a criminal if you are arrested™
Contact our Waukesha criminal defense attorneys right now for your free legal advice case assessment.
National Firearms Act

Regulated Firearms, Explosives, & Devices

Machine Guns

Capable of firing 1+ cartridges
Fires full auto and "burst"
Non-machine gun converted and fires 1+ shot

Silencer/Suppressor

Any mobile device that muffles or silences firearm

Short-barreled Rifle (SBRs)

Barrel less than 16" or overall length less than 26"
Weapon made from rifle, if barrel is less than 16" or overall length less than 26"

Destructive Devices

Bombs
Grenades
Poisonous gas weapons
Explosive missiles
Any firearm with a bore over 0.50" (expect for shotguns and shotgun shells for sporting)

Short-barreled Shotgun (SBSs)

Barrel less than 18" or overall length less than 26"
Weapon made from shotgun, if barrel is less than 18" or overall length less than 26"

"Any Other Weapon" (AOWs)

Other firearms that can be concealed, or disguised such as: Pen guns, cane guns, and umbrella guns
Combination of shotgun and rifle; barrel 12+" or less than 18"
NFA Gun Trust Reviews
Setting up NFA trust
5.0 stars
Posted by Karen
Jane 7, 2019
Hired attorney
We worked with Tom Grieve when we set up our NFA trust. He thoroughly explained the process and paperwork. He is so knowledgeable about WI gun laws we would highly recommend him.
NFA Trust
5.0 stars
Posted by Allen
April 20, 2019
Hired attorney
It's worth the money for the peace of mind to set up a NFA trust through Grieve Law. I had mine set up during a group session, and he was very knowledgeable on the subject and was able to answer everyone's questions. If you're looking to set up a NFA trust, forget the cheapo online trusts, Grieve Law is the way to go!
Work on Gun Trusts
5.0 stars
Posted by Bob
January 28, 2016
Hired attorney
My first meeting was outstanding. Tom is so thorough about these types of trusts, but more importantly he knows the law enforcement side that explains so well what to expect if you are stopped by law enforcement and how ATF looks at gun trusts. I could go on-and-on, but in the end walked out with the document I wanted. I would highly recommend Tom Grieve for anything related to firearms and following the law.
Outstanding choice
5.0 stars
Posted by Ryan
January 18, 2016
Hired attorney
I recently had an opportunity to work with Tom on a Trust and I couldn't have made a better choice. Tom is ver knowledgeable and extremely responsive. I would recommend him to anyone in need!
Awesome Lawyer for an NFA Trust!
5.0 stars
Posted by Chris
February 20, 2013
I found Tom Grieve by chance and he just did an NFA trust for me and I couldnt be happier! I presented him with a peculiar situation and he handled it with ease, going above and beyond what I expected. He was very open and easy to talk to, and knew what he was doing. Great lawyer and I would definetly use again! I'm glad I found him.
Great, Fast, Affordable Trust work
5.0 stars
Posted by Todd
January 6, 2013
Tom did a great job in 15 days even with holidays forming our trust for firearms. Thank you. I would recommend Tom for any trust work. Very good job!
NFA trust
5.0 stars
Posted by Brian
January 4, 2013
Tom set up and executed an NFA trust for me. His knowledge made the process quick and simple, he was very personable and easy to speak with. Thank you!
Knowledgable and great to work with!
5.0 stars
Posted by Theron
December 7, 2012
I recently hired Tom to write and execute an NFA gun trust for me. He was very knowledgable in the WI and federal gun laws and spent time explaining everything with me. Setting up the NFA trust was very easy and I feel very fortunate to have found Tom to help me. I will be recommending him to all of my friends and associates who would be interested in owning NFA items. Thanks Tom.
NFA Firearm Trust - EASY
5.0 stars
Posted by Ted
December 7, 2012
I worked with Mr Grieve to set up an NFA Firearm Trust. Answered all of my questions, easy to fill out questionnaire, and reviewed EVERYTHING with me line by line. All of this and and reasonably priced as well. Would do again, glad I found him!