Gun Attorneys
Glendale-Whitefish Bay office near Bayshore Mall
If you're a Glendale or White Fish Bay resident with no prior convictions, you could face up to $10,000 in fines, 9 months in prison, or both, for carrying a concealed weapon without a permit. A felon in possession of a firearm could face a minimum penalty of up to 10 years in prison, a $25,000 fine or both.
Tom Grieve
OWI & Criminal Defense Attorney
Gun charges can range as misdemeanors or felonies, and can have various levels of severity. A misdemeanor gun charge, for example, Carrying a Concealed Weapon, is a class A misdemeanor. This Class A misdemeanor carries a maximum possible penalty of 9 months in jail, a $10,000 fine, or both. On the other hand, Possession of a firearm silencer, short-barreled rifle or shotgun, or machine gun is a Class H felony. Those class H felonies come with maximum penalties of 6 years' prison, a fine of $10,000, or both. Gun charges can also be much more serious than that too. Additionally, other criminal charges can be accompanied by a dangerous weapons enhancer if a gun or other dangerous weapon is used in the commission of another crime.
If sentenced to prison time in Wisconsin, your sentence will be split up into initial confinement and extended supervision for a total amount of time. So, in the above example with 6 years in prison, it could be split up into something like 3 years of initial confinement and 3 years of extended supervision.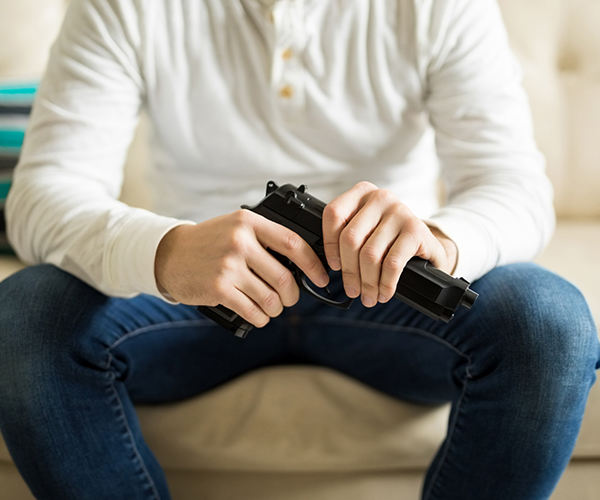 The lawyers trusted by Northshore Milwaukee for great results and strong legal advice
The attorneys at Grieve Law are specially educated and equipped to deal with any gun charge that might come your way in the Glendale area. Our team has intricate and unique knowledge about the gun laws in Wisconsin as they are constantly changing. This knowledge helps us to get excellent results for our clients that may result in reduced or even dismissed charges.
Our Whitefish Bay gun attorneys are here to help you through what could be a life-altering moment in your life. There are many ways your gun charges could go, and we want them to go the right way. We want to prevent as much as possible the jail or prison time, fines, firearm forfeiture, loss of firearms rights, and a lifetime headache for one simple mistake. Regardless of whether your gun charge is a misdemeanor or felony under Wisconsin law, you need a Milwaukee County gun attorney who knows what it takes to beat your case.
We defend a large range of gun charges, they include but are not limited to:
Possession of a short-barreled rife

Domestic violence charges

Sexual assault charges

Charges for Carrying a Concealed Weapon

Felony weapon and gun charges

Unlawful sale of a firearm charges

Intoxicated use of a firearm

Reckless or unlawful use of a weapon

Assault with a deadly weapon charges

Illegal discharge of a firearm
Gun Attorneys in Northshore Milwaukee
With everything going on in the world, more and more people feel the need to carry a firearm but are often unfamiliar with the full extent of consequences if it is done improperly. Even if you have a permit, you can get criminal charges for various reasons such as intoxication, being close to a school, municipal building, and many others.
Concealed Carry Charges
While Wisconsin open carry laws allow for guns to be carried out in the open, you can very quickly get into trouble if you are concealing that weapon without a permit. To get a concealed carry permit, there are classes that need to be completed as well as an extensive background check before the Department of Justice will issue one for you. If you are carrying a concealed weapon, you need a permit to do so. And, even if you have a permit, you can get criminal charges for carrying a concealed weapon in designated locations that do not allow guns on the premises.
Our experienced firearm attorneys can advise you on charges such as:
Carrying a concealed weapon without a license

Carrying a firearm in a public building

Carrying a handgun where alcoholic beverages may be sold and consumed
These types of charges are Class A misdemeanors and in Wisconsin, their maximum penalties include 9 months' jail, a fine of $10,000, or both. A court could also put you on probation and/or give you community service.
In Wisconsin, a firearm can be considered concealed in a wide range of situations. It is most frequently thought of when it is in your pocket.
Intoxicated possession of a firearm
Regardless of whether you have a permit to carry a concealed weapon, it is illegal to do so while you are under the influence of drugs or alcohol. What this means is that if you have any trace of a restricted controlled substance in your blood or alcohol, you could be charged with another type of Class A misdemeanor. This offense also comes with a maximum of 9 months in jail, a $10,000 fine, or both. This charge can come with other consequences such as the forfeiture of a firearm or the possibility of something like probation where you are monitored for up to two years. It is imperative that you have an aggressive, firearm-knowledgeable, criminal defense attorney by your side through these types of cases. There are many ways to defend these charges.
Negligent Use of a Firearm
Just pointing a firearm at someone or handling it in an otherwise reckless manner, regardless still of whether you have a concealed carry permit, can get you additional criminal charges. Intentionally pointing a firearm at another is also a Class A misdemeanor with the same maximum penalties as previously discussed. However, if the gun accidentally goes off you can be facing some pretty serious felony charges that could involve prison time.
If you have any sort of gun charge in Wisconsin or the Glendale area, do not hesitate to reach out to our specially-trained criminal defense attorneys to provide zealous advocacy.
How long will a gun charge stay on my record?
Any conviction for a gun case will stay on your record forever. Even if you get it expunged from your record in the case of misdemeanors or some felonies, you will still have a criminal conviction on your record. In the case of a felony, those penalties can follow you for the rest of your life. These charges are incredibly serious and costly. You need to hire an aggressive criminal defense attorney.
How to beat a gun charge
There are a lot of legal questions with gun charges and because of that, there are a lot of ways to beat them. What does concealed mean? What does it mean to possess a firearm? What if the gun is in the trunk or unloaded? As a citizen, you are also protected by your own constitutional rights and those come up frequently as ways to get cases reduced or even dismissed.