Class E Felony in Wisconsin
Sentencing & Penalties
A Class E felony charge against you may be for drug sales, battery, or a hit and run. Whatever the specifics of your case, one thing is certain: Tom Grieve and Grieve Law will give you the best chance of any lawyer in Wisconsin to have your charges dropped or reduced. Call us today and protect your freedom. You are only guilty if you are convicted.™
What is a Class E Felony in Wisconsin?
A Class E felony is punishable by up to 15 years in state prison, a maximum fine of $50,000, or both imprisonment and a fine. Class E felonies in Wisconsin are punishable by double the fines of a Class F felony. (Wis. Stat. § 939.50.)
As with all felonies, Class E violations can never be expunged from your criminal record. Felony convictions can lead to restrictions on your ability to travel, hold some kinds of employment, and vote. Being convicted of a Class E felony will affect your life long after you've served the sentence.
Wisconsin has a well-organized system to classify felonies, misdemeanors, and other violations. Learn more about Wisconsin criminal penalties and defenses and what your charges really mean.
You are only guilty if you are convicted™
Types of Class E Felony
There are many types of Class E felonies which Grieve Law can defend in court, including:
Grieve Law offers experienced criminal defense services for Wisconsin defendants. If you're facing a Class E felony charge or any other type of violation, Grieve Law will use every shred of evidence to fight your prosecutors in court. Unlike Fee to Plea™ lawyers who talk you into surrendering your rights in plea bargains, Grieve Law's top-notch attorneys prepare powerful, strategic defenses to win cases. If you've been accused of a Class E felony in Wisconsin, you are only guilty if you are convicted.™ Call Grieve Law today for a free consultation.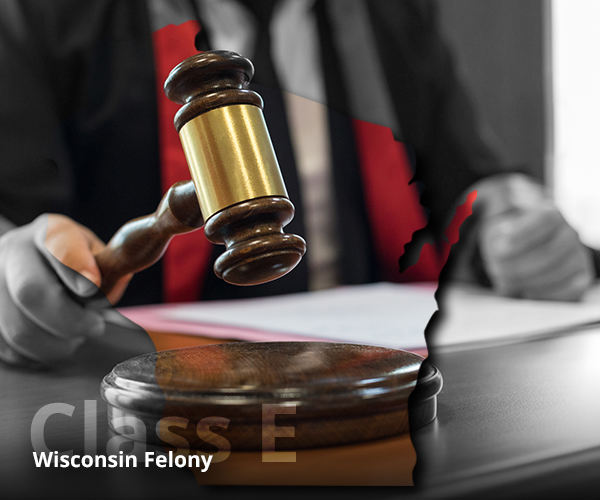 Defenses for a Class E Felony in Wisconsin
The most important thing to do when facing a felony charge is to know the system. This starts with having an attorney who can coach you through your initial appearance and make sure you know all of your options. Any criminal trial is a nerve-wracking experience, but you should never assume that whatever the prosecution offers you is your only way out.
Grieve Law always creates defenses to give you the best chance of winning at court. For Class E felonies, we'll often begin by investigating if the prosecution has probable cause to accuse you of a felony during the preliminary hearing. Without probable cause, they cannot advance your case to trial. Grieve will analyze the police and court records to determine if your rights were violated during the arrest or pre-trial booking process. If a mistake was made before trial, a motion hearing can be called to dismiss the charges. These are tactics Grieve might use with other felony and misdemeanor violations as well.
Some Class E felonies, particularly Aggravated Battery, are more extreme cases of behavior that can also be charged as a lesser felony or misdemeanor. Therefore, Grieve Law may try to reduce the charges down to misdemeanors. If you are not charged with any felonies, you cannot have your civil rights restricted and won't serve time in state prison. Misdemeanors can also be erased from your criminal record through the expungement process.
For Possession with Intent drug charges, Grieve Law will often begin by examining the circumstances of your arrest. If your rights were violated during the stop or search or you were compelled to give a confession, the evidence the police discovered (that is, the drugs) are inadmissible in court. It is also possible Grieve Law will find evidence of entrapment. If these investigations don't succeed, Grieve Law knows that proving the intent to distribute the drugs is critical to charging you with a felony. Your first charge of cocaine possession in Wisconsin without intent is a misdemeanor, and so Grieve Law may work to reduce your charge and keep you out of state prison.
Grieve Law: Keeping Innocent Wisconsin Free
If you or a loved one has been accused of a felony, don't wait to seek legal advice. Grieve Law offers the highest quality, most affordable criminal law service in southeast Wisconsin. We offer flexible payment plans to make sure any Wisconsin citizen can get the legal counsel they need, and we offer free legal advice consultations to answer your questions and outline your options. If you need a defense attorney in the Milwaukee area, nobody has a better chance of getting your charges reduced or dropped than Tom Grieve. You are only guilty if you are convicted.™
How long does a Class E felony charge stay on your record in Wisconsin?
In Wisconsin, a Class E felony charge stays on your record for life. If the maximum punishment for your crime was over 6 years, you cannot even apply to have your record sealed.
How to Reduce Penalties for Class E Felony Charges
Class E Felony convictions are hard to beat. If the State of Wisconsin is charging you with any felony offense you need to lawyer up fast. In felony cases, qualified legal counsel is often the only thing standing between you and years in prison.
Attorney Tom Grieve has an impressive track record of getting felony charges dropped or reduced to misdemeanors. If he can't get charges reduced or dropped, he often helps his clients avoid the harshest legal penalties. As a former State of Wisconsin criminal prosecutor, Tom understands how the Wisconsin legal system works, and will do everything he can to get the results you want. Other organizations have recognized Tom's skill too. He's been named a Wisconsin Rising Star by Super Lawyers and named a top attorney in Wisconsin by both Madison and Milwaukee magazines.
The attorneys at Grieve Law are dedicated to helping clients get positive outcomes. Other law firms may practice criminal defense, but Grieve Law specializes in getting clients the outcomes they deserve.