OWI on a Snowmobile in Wisconsin
3 Surprisingly Grim Realities
When you are out with your friends, enjoying an exhilarating snowmobile ride through freshly fallen powder, you may decide to warm yourself up with a few beers or something a little stronger. After all, you are not driving a car… Right? Do not be caught off guard by the surprising realities of getting a 1st offense OWI on a snowmobile! If you are operating a snowmobile on public land with a BAC over 0.08%, you could find yourself charged with driving under the influence, commonly known as a first offense DUI or drunk driving charge in Wisconsin.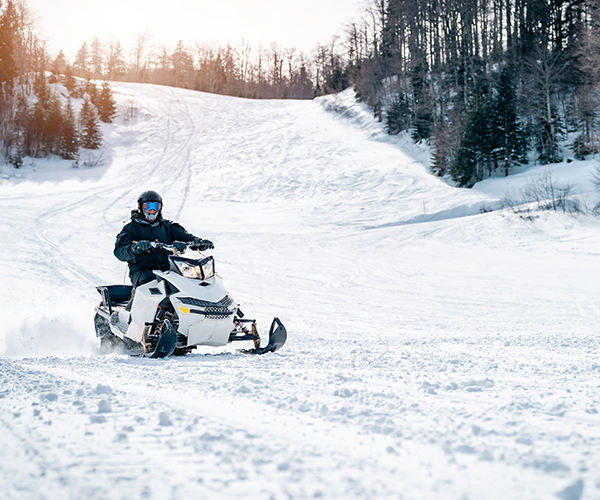 1. You have to blow. Else face penalties that could be even worse.
Using your snowmobile on public land also means that you consent to submitting to breath or blood tests to measure your alcohol level. Refusing one of these tests is a crime in itself.
2. In Wisconsin, your second snowmobile OWI carries bigger penalties than your first.
Just like any other OWI, offenses of this type on a snowmobile are cumulative. If you have operated a snowmobile while intoxicated in the past, you can expect stiffer penalties in Wisconsin, into the thousands of dollars. If you were being reckless enough, you could even lose your right to operate a snowmobile. Note, however, the separation between your automobile OWIs and your snowmobile OWIs. Your auto OWIs do not count as prior offenses if you have an offense on a snowmobile, and having a snowmobile OWI does not put your driver's license at risk.
3. Criminal Penalties for Wisconsin snowmobile OWI charges could increase:
Lawmakers have been recently authoring bills that would make snowmobile OWIs more serious offenses, carrying stiffer consequences in Wisconsin. Proposed legislation would also make OWIs received for operating a different vehicle, such as an ATV, count as a prior conviction in a snowmobile case. In our current punitive legal climate, it would behoove all drivers and sportsmen to stay up-to-date on the law and to know your rights! Forewarned is forearmed. Learn more about drunk driving laws in Wisconsin.
Criminal defense attorney for Snowmobile drunk driving charges
At Grieve Law in Waukesha (between Madison and Milwaukee), our team of successful defense attorneys is here for you. Our mission is to provide clear and understandable legal information and advice, as well as zealous and aggressive advocacy at all stages of the criminal process. OWIs have been a staple of our practice for years, so you can feel confident about your attorney's level of experience and track record of success. Call us today for a free consultation!
Grieve Law represents clients statewide including Dane, Columbia, Dodge, Washington, Jefferson, Racine, Kenosha, Walworth, Rock, and Waukesha. Use our online contact form to set up a free initial consult.
In Wisconsin, how long does a OWI charge stay on your record?
Charges and convictions (whether a 1st offense, 2nd offense or more) for residents in Wisconsin, stay on public records for life.