Menomonee Falls Criminal Defense Lawyer
Waukesha County, Wisconsin
Get criminal charges reduced or dismissed in Menomonee Falls
If you're facing criminal charges in Menomonee Falls, the award-winning attorneys at Grieve Law are ready to fight for you. Our expert team of Waukesha County lawyers has a proven track record of defending and achieving favorable outcomes for clients facing OWI, drug, domestic violence and firearm charges.
We believe one mistake should not ruin your life, and Grieve Law's goal is to fight for your second chance. We'll be the strong voice in your corner upholding your rights in and out of the courtroom, guiding you through each stage of the legal process and handling all interactions with the prosecution and law enforcement on your behalf.
Don't fight criminal charges alone. Contact Grieve Law today for a free consultation to begin discussing your defense strategy and fighting for your freedom.
You are only guilty if you are convicted™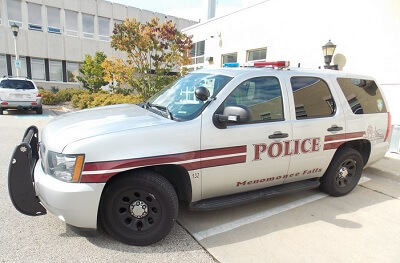 Menomonee Falls Police Department & Court:
W156N8480 Pilgrim Rd.,
Menomonee Falls,
WI
53051
Menomonee Falls OWI Defense Attorneys
Grieve Law specializes in defending Waukesha County clients from OWI charges. Whether it's a first offense or a repeat allegation, you need an experienced attorney with an understanding of effective strategies and possible case outcomes on your side.
Our expert OWI defense lawyers have a proven track record of getting impaired driving charges dismissed or significantly reduced. We are experts at exposing weaknesses in the prosecution's case and steering our clients clear of severe fines, jail time and license revocation. Quality legal representation is absolutely critical to the success of an OWI defense. When your future is on the line, enlist the help of a legal team with an in-depth knowledge of OWI defense.
Attorney Payment Plans
We firmly believe your financial situation should not dictate the quality of your legal representation. Grieve Law offers flexible payment plans so cost is never a barrier to top-tier criminal defense.
We understand retaining top legal counsel often comes with a high price tag, and opting for a budget attorney may seem tempting, but it too frequently leads to weak defenses and harsher sentences. You shouldn't have to compromise seeking the best defense possible because of financial concerns.
Grieve Law is committed to working with you to create an affordable payment plan to meet your needs while still providing premier criminal defense counsel. Our accomplished team has a proven track record of success, fueled by a passion for justice.
| | Grams Possessed | Penalty | Jail Time | Maxium Fine |
| --- | --- | --- | --- | --- |
| First Offense | Any amount | Misdemeanor | 6 months | $1,000 |
| Subsequent Offense | Any amount | Felony | 3.5 years | $10,000 |
In Menomonee Falls, Wisconsin, how long does a disorderly conduct conviction stay on your record?
Disorderly conduct in Menomonee Falls, Wisconsin, could lead to a $10,000 fine and a permanent reference of the conviction on your Wisconsin criminal record.