Criminal Defense Attorneys in Merton
Waukesha County, Wisconsin
Get criminal charges dismissed or reduced in Merton
When you're confronted with criminal charges in Waukesha County, choose the award-winning attorneys at Grieve Law to stand by your side. Our team of expert lawyers has an established track record of defending clients and achieving favorable outcomes in cases involving OWIs, drug offenses, domestic violence and firearm charges.
We firmly believe a single mistake shouldn't permanently impact your life, and our mission is to fight for your second chance. Grieve Law will be the steadfast advocate in your corner, tirelessly upholding your rights both inside and outside of the courtroom. Throughout every stage of the legal process, we will provide guidance and expertly handle all interactions with the prosecution and law enforcement on your behalf.
Don't fight criminal charges alone. Contact Grieve Law today for a free consultation to begin discussing your defense strategy and begin fighting for your freedom.
You are only guilty if you are convicted™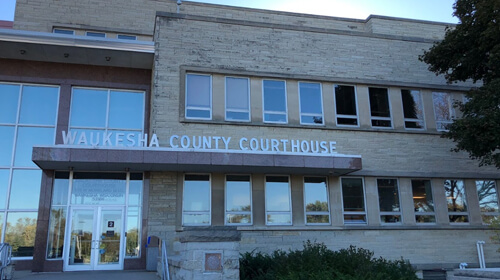 Where to Go for Court: 515 W. Moreland Boulevard, Waukesha, WI 53188
Waukesha County Sheriff: 515 W. Moreland Boulevard, Waukesha, WI 53188
Merton OWI Defense Attorneys
The attorneys at Grieve Law are highly experienced in combating OWI charges in Wisconsin. Whether you're facing your 1st or 5th impaired driving charge, it's crucial to have representation in your corner with an intricate understanding of OWI defense strategies and case outcomes.
Knowledgeable legal representation is critical to the success of an OWI defense. The Merton OWI lawyers at Grieve Law specialize in finding, exposing and leveraging flaws in the prosecution's case. We have consistently steered our clients away from harsh fines, incarceration and license revocation.
Don't face OWI charges in Wisconsin alone. The established defense attorneys at Grieve Law are here to give you an unyielding defense and defend your best interests with our track record of getting Wisconsin OWI charges of all degrees dismissed.
Attorney Payment Plans
We understand securing top-notch legal counsel often comes with a large expense, but Grieve Law believes your financial constraints should not be a determining factor in the quality of your legal representation. We offer flexible payment options to ensure cost never restricts your access to the legal counsel you deserve.
A low-budget attorney often provides a low-budget defense, leading to far worse sentences. We refuse to make you choose between a strong criminal defense and financial stability. Our award-winning legal team is driven by an unwavering dedication to justice, and we'll work with you to develop a payment plan you can afford.
| | Grams Possessed | Penalty | Jail Time | Maxium Fine |
| --- | --- | --- | --- | --- |
| First Offense | Any amount | Misdemeanor | 6 months | $1,000 |
| Subsequent Offense | Any amount | Felony | 3.5 years | $10,000 |