Gun Attorneys
on Costs & Possible Defenses (Madison office)
The penalty for concealing a gun without a permit in Madison, Wisconsin, could be a maximum fine of $10,000, 9 months in prison or both for someone with no prior convictions. Felons face stiffer penalties, possibly starting at a Class G felony, which has a penalty of 10 years in prison, a $25,000 fine or both.
Tom Grieve
OWI & Criminal Defense Attorney
Penalties for a Class A misdemeanor in Wisconsin may include:
Up to 9 months in prison
Fines up to $10,000
Community service
Probation
While misdemeanor probation seems like a lighter sentence than jail time, you must adhere to a strict set of guidelines given by the judge at sentencing. You most likely will be monitored and be required to check in with a probation officer on a regular basis. If you fail to follow the guidelines, the judge can extend the length of your probation, include new guidelines or even impose a jail sentence.
Intoxicated Possession of a Firearm: Don't Drink and Carry
In Wisconsin, it is legal to conceal carry a firearm for your own protection, but if you plan to go out and have a good time you'll want to leave your gun at home. It is illegal to have any trace of a restricted controlled substance in your system while in possession of a firearm. If you're caught, penalties can disrupt your life, making it difficult to find or maintain employment. When jail time and hefty fines are on the table, it's important to arm your defense with the strong knowledgeable attorneys at Grieve Law LLC.
Penalties for intoxicated possession:
Class A Misdemeanor
Up to 9 months in prison
Fines up to $10,000
Community Service
Probation
Penalties for a Class F felony:
Up to 12 years in prison
And/or a $25,000 fine
Forfeiture of gun rights
In Wisconsin, courts divide felony prison sentences into two parts: initial confinement and extended supervision. If you or anyone you know is charged with a gun felony or a felony of any kind, you should contact an experienced criminal defense attorney at Grieve Law immediately.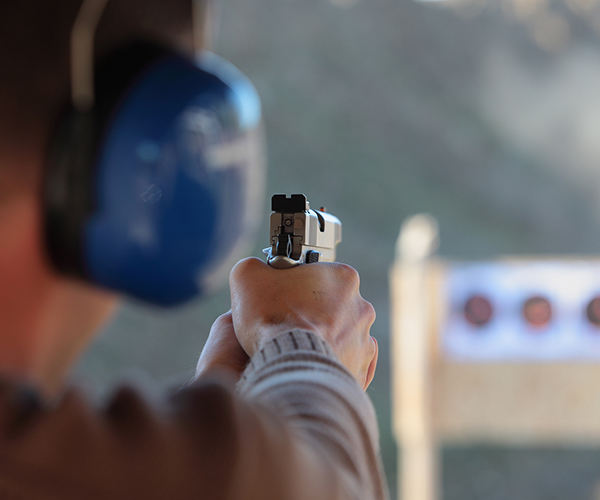 The Gun Attorneys Madison and Southeast Wisconsin Trust for Legal Advice and Powerful Results
Madison gun attorneys at Grieve Law, LLC are uniquely qualified to handle any complicated Wisconsin gun charge. Tom Grieve is a lifetime NRA member and avid hunter who understands the intricacies of Wisconsin gun laws and has a passion for protecting Dane County residents' Second Amendment rights. Our Madison gun attorneys know how to navigate the confusing legal system to get the charges you're facing reduced or dropped.
You are only guilty if you are convicted™
Grieve Law's Madison gun lawyers work to protect you against permanent criminal marks on your record, jail time, hefty fines and other serious life-changing consequences because of a gun charge. Whether you're facing a felony gun charge, a misdemeanor battery charge jeopardizing your gun rights, or just need information on Wisconsin Concealed Carry laws or the WI Castle Doctrine, our Madison legal team is here to help.
Grieve Law Madison gun lawyers defend a range of Wisconsin weapon charges, including:
Illegally Carrying a Concealed Weapon
Domestic Violence
Felony Weapons Charge and Felony Gun Charge
Sexual Assault & Homicide
Reckless or Unlawful Use of a Weapon
Unlawful Sale of a Firearm
Assault with a Deadly Weapon
Illegal Discharge of a Firearm
Restrictions on use of facsimile firearm
Possessing a firearm with modifications is a Class F felony in Wisconsin. Examples of modified weapons include:
Pistol with added butt stock
Useof a bump stock
Turning any firearm into a machine gun
Adding a silencer
Shotguns or rifles shorter than 26 inches
Shotgun barrels 18 inches or less
Rifles with barrels 16 inches or less
Changing any gun modification in Wisconsin
Gun Lawyers for Madison, Middleton, Fitchburg, Dane County & Surrounding Areas in Wisconsin
Ignorance of the law is not a defense to gun law violations. Whether intentional or accidental, gun law violations can have severe consequences on your life and future. If you choose to exercise your right to carry a gun, a lawyer with knowledge on the topic is a necessity. Our Madison area Grieve Law attorneys are ready and able to defend you against any criminal prosecution for concealed carry charges, intoxicated possession of a firearm or endangering safety through negligent use. There's no need to jump bail with Grieve Law on your side.
Concealed Carry: Legal in Madison, Criminal Charges Are Still Possible
In the state of Wisconsin, if you are carrying a concealed firearm you are required to have a concealed carry permit. Regardless of this permit, many buildings such as schools, bars and municipal buildings do not allow firearms inside. These locations can press charges if you're caught carrying a concealed firearm within the property, whether you hold a permit or not. Don't let a criminal charge ruin your life! Get a knowledgeable Madison concealed carry defense attorney from Grieve Law to strategically defend your case.
The experienced criminal defense attorneys at Grieve Law LLC will be able to advice you on the following charges:
Carrying concealed weapon
Carrying a firearm in a public building
Carrying a handgun where alcohol beverages may be sold and consumed
Negligent Use: Pointing a Gun Can Be a Crime in Wisconsin
Using a firearm or dangerous weapon to threaten the safety of another is a class A misdemeanor in Wisconsin. Even if the weapon wasn't loaded and no harm is caused, the act of pointing a gun at someone is considered a crime. If you or someone you know is charged with endangering safety by negligent use, contact the Madison-area gun defense attorneys at Grieve Law for experienced representation.
If presented with gun charges in Waunakee, Oregon, Sun Prairie, Middleton, Fitchburg or anywhere in Wisconsin, reach out to our team of experienced Madison-area gun lawyers for the best legal strategies to get your charges reduced or dropped.
Contact the Madison Gun Lawyers at Grieve Law for a free legal consultation.
How long will a gun charge stay on your record?
In Wisconsin, a gun-related conviction will remain on your record forever. Those who are convicted can petition the State for a Governor's pardon or request expunction at sentencing, however, those are rarely granted. In order to even be eligible for expunction, there requires a very specific set of circumstances. Having a knowledgeable attorney who will fight for you is the best bet to a good defense.
How to beat a gun charge
An experienced attorney will look at your case facts and point out any illegal activity from the police and highlight any constitutional issues that can be challenged. Whether you're facing misdemeanor weapons charges, felony gun charges or you just want to be thoroughly informed on your Wisconsin gun rights, set up a free legal advice consultation with our Milwaukee gun lawyers.
An experienced Milwaukee gun lawyer qualified to handle Wisconsin gun charges will be able to advise you on your best options towards getting the following charges dropped or reduced.