New Berlin Criminal Defense Attorney
Waukesha County, Wisconsin
Dismissing or reducing New Berlin criminal charges
The award-winning attorneys at Grieve Law provide expert defense for New Berlin residents facing criminal charges. Our skilled lawyers have extensive experience securing favorable outcomes for clients facing OWI, drug, domestic violence and firearm charges.
We know one mistake should not ruin your life, and we will fight to provide you with a second chance. Grieve Law is a powerful voice in your corner through every stage of the legal process, upholding your rights in and out of the courtroom. Our attorneys skillfully manage all communication with the prosecution and law enforcement on your behalf while developing a strong case aimed at achieving the best resolution.
Put your case in hands you can trust. Contact Grieve Law today for a free consultation to begin fighting for your freedom.
You are only guilty if you are convicted™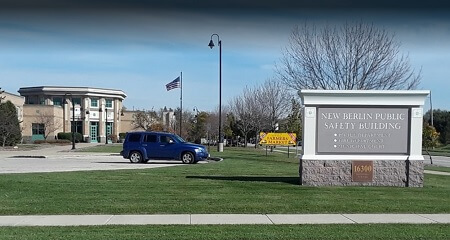 New Berlin Police Department & Court:
16300 W National Ave.,
New Berlin,
WI
53151
OWI Defense Attorneys in New Berlin
Grieve Law specializes in providing defense for clients facing impaired driving charges in Waukesha County. The success of an OWI defense heavily relies on the knowledge and expertise of your legal representation. Our attorneys hold extensive experience from both sides of Wisconsin criminal proceedings and a deep understanding of the details of winning OWI cases.
We are experts in poking holes in the prosecution's arguments and skillfully leveraging them to keep our clients clear of unreasonable fines, jail time and license revocation. Grieve Law's acclaimed lawyers see you as a person, not just another case, and we are committed to building you the strongest defense possible.
Don't face OWI charges in Wisconsin alone. With our track record of getting Wisconsin OWI charges of all degrees dismissed, the defense attorneys at Grieve Law are here to craft you a robust and reliable defense.
Attorney Payment Plans
Grieve Law is dedicated to making top-tier legal representation accessible, regardless of your financial constraints. We offer adaptable payment options tailored to your budget, without compromising on the strong defense you deserve.
Opting for a low-budget attorney may save you money upfront, but those savings too often lead to unfavorable outcomes in the long run. We refuse to make you choose between high-quality legal counsel and financial stability. Instead, we collaborate with you to create a payment solution so you can obtain the expert representation you need at a pace you can afford.
| | Grams Possessed | Penalty | Jail Time | Maxium Fine |
| --- | --- | --- | --- | --- |
| First Offense | Any amount | Misdemeanor | 6 months | $1,000 |
| Subsequent Offense | Any amount | Felony | 3.5 years | $10,000 |
In New Berlin, Wisconsin, how long does a cocaine charge stay on your record?
Cocaine convictions in New Berlin, Wisconsin, are often felonies if there is an intent to distribute or manufacture the drug, leading to a potential fine that could reach $100,000 or a prison ter. The charges alone could remain on your record permanently.