Waukesha County OWI Attorney
We defend you in Wisconsin
If you're charged with an OWI in Waukesha County, working with an attorney could help you defend your rights throughout the courthouse proceedings. You do not want to miss any details if possible conviction penalties include more than $1,000 in fines, up to 9 months license revocation and other consequences.
Reducing or dropping Waukesha County criminal charges
When you're facing OWI drunk driving charges in Waukesha County the penalties are severe. Going forward without the help of a first offense OWI law firm means jail time, fines, loss of employment and loss of rights are even closer than you think. Fee to plea lawyers don't get it:
You Are Only Guilty If You Are Convicted®
Grieve Law attorneys put up a fierce fight for your rights when you're facing criminal charges in Waukesha County. Our attorneys have experience including:
You need your Wisconsin OWI attorney to see your best possible defense options and outcomes. We hire award-winning attorneys with extensive drunk driving and criminal law trial experience against Wisconsin prosecutors.
Grieve Law criminal defense attorneys guide you through the entire legal process from citation to trial. We help you navigate all questions and interactions with the prosecution at any location.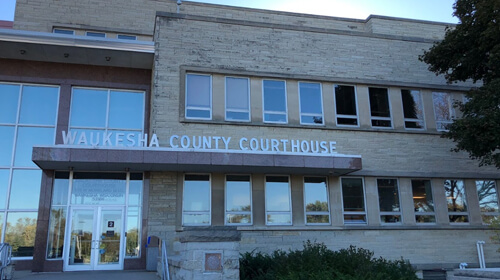 Waukesha County Courthouse & Jail:
515 W Moreland Blvd.

Waukesha

WI

,

53188
Affordable Criminal Defense Attorneys in Waukesha County
Nobody anticipates criminal charges. Settling for a cheap lawyer isn't always in your best interest. Grieve Law offers flexible payment plans to help you afford our top criminal defense attorneys. The cost your permanent record can have on your lifetime earning potential means you should make an informed decision about who you choose as your criminal defense attorney. Grieve Law offers a free initial phone consultation regarding what you can expect.
Our criminal defense attorneys fight for clients anywhere in Waukesha County, including:
How long does an OWI stay on your record in Waukesha County, Wisconsin?
In Waukesha County, Wisconsin, if your first OWI arrest was made by a sheriff as opposed to a local police department, then your OWI will appear on CCAP. It will be very difficult to remove the OWI charge from your criminal record.